Never Drift Apart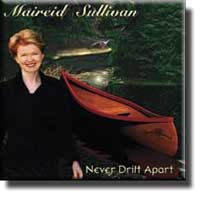 THE AGE Thursday, November 13, 2003

Keynotes

Never Drift Apart
Mairéid Sullivan
(Lyrebird Media LBM003)

****
Irish songstress and Celtic chronicler Mairéid Sullivan is back after seven years overseas. Possessing a rich, pure voice and a poet's vision, she has distilled her experiences into an exceptional new CD. Sullivan knows few musical boundaries and the genres on this locally produced record range from contemporary to traditional, from folk and pop to ambient new-age textures (provided by Sullivan's partner, accomplished American guitarist, Ben Kettlewell). Other key contributors include violinist Matthew Arnold, bassist Joe Creighton, and percussionist Peter Neville.
Sullivan's music soothes and uplifts, particularly the opening title track. Her haunting cover of Ry Cooder's classic Across the Borderline, Tommy Makem's beautiful The Curlew Song and a gorgeous rendition of Eric Clapton's River of Tears are standouts.
Never Drift Apart is available at ABC shops and good record stores or online at www.maireid.com
Mike Daly, The Age, Melbourne, Australia


MAIREID SULLIVAN is the winner of Creatrix Studio's 2003 New Millennium Award, for her latest recording Never Drift Apart, produced by Lyrebird Media. She is a visionary musician, whose evocative music will transport you beyond time and space. Maireid's voice is always melodious and often angelic and otherworldly as it envelops you in spells of enchantment. The rhythms and melody reflect Maireid's Celtic heritage and the songs that she grew up with as a child in Ireland.
Celeste Adams, Creatrix Studio, Santa Monica, California, U.S.A.


The dreamy echoes of Sullivan's music and her yearning to connect with her listeners are all simply marvelous right off the bat with the first track here--which is also the title track, "Never Drift Apart." This CD nearly fits into the Celtic "new-age" genre, but allows its boundaries to flow to and fro, depending on the mood of the tune so it isn't exactly a neat box within which to place the songs. Her sound doesn't categorize easily--you can't compare her to Enya or McKennitt, because she doesn't sound like either, but she is just as captivating. A truly unique vocal artist.
Interestingly, Sullivan also does a lovely job of covering a variety of tunes here--adding her own stamp to them. You'll find Clapton's "River of Tears" and others, but she knows how to make them her own. The music you will find here is comforting and soul-soothing; music to meditate to or unwind with after an especially harrowing day. You can feel that Sullivan is a deep and thoughtful soul--it comes through clearly in the vocals and choice of songs on the CD.
Irish-born and the daughter of a tenor, Sullivan has also lived in the United States and Australia, where she currently resides. The vocalist avows an avid interest in Celtic history and is also a poet and writer. You won't find anything jarring or too energizing here--this is a CD to renew and refresh yourself, not one to get your feet moving. You can tell that each track is carefully crafted, and some have such depth as to almost sound like a hymn. Really, this is an outstanding and moving CD--one with presence.
Catherine L. Tully, Celtic MP3s Music Magazine, Austin, Texas, USA

It has been said that almost half the population of Australia can claim Celtic roots. Maireid Sullivan is a resident of Australia, but was born and spent most of her childhood in Ireland. Growing up in a musical family, she then spent most of her teenage years in San Francisco listening to the American music of the '60s.
Her CD, Never Drift Apart, is a pleasant mixture of traditional and contemporary Irish, English and American music. Her soothing unique voice reminds me of singers like June Tabor, Niamh Parsons and Susan McKeown.
The title track is the CD's only original tune and has a soothing Celtic/new age sound to it. Maireid has a strong ability to perform other artists' songs, and one of the best examples is her cover of Eric Clapton's "River of Tears." She also does a very nice job covering Ry Cooder's "Across the Borderline." On the more Irish side, her rendition of Tommy Makem's "The Curlew Song" is hauntingly beautiful. On the traditional side, she does a nice version of "When I Was on Horseback" and "Go from My Window," which has a beautiful guitar and fiddle accompaniment.
Never Drift Apart includes a good group of musicians, most notably her partner, American guitarist Ben Kettlewell. Maireid has a special interest in exploring the roots of Celtic culture with her music and poetry. Her wide range of musical influences which are very tastefully blended together make this an enjoyable CD.
Dave Townsend, Rambles.net, Lancaster, Pennsylvania, USA
This album is available for download at the iTunes Music Store.