"There is nothing more thrilling in this world, I think, than having a child that is yours, and yet is
mysteriously a stranger." Agatha Christie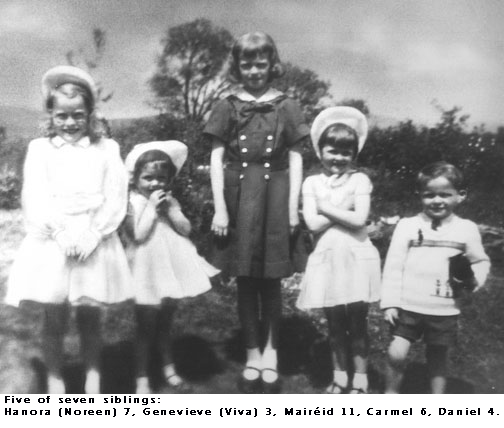 Five of the seven Sullivan siblings:
L to R: Hanora (Noreen) age 7, Genevieve (Viva) age 3, Maireid age 11, Carmel age 6, Daniel age 4.
Letter from an Emigrant
by Mairéid Sullivan
Published by Kealkill National School, 2009

To; Kealkill National School Centenary Committee, Kealkill N.S.
Kealkill Co. Cork

Dear Kealkill National School Centenary Committee,

I want to wish you all congratulations and best wishes for the centenary celebrations for Kealkill National School to be held later this year. Kealkill National School has a great tradition of serving the people of Kealkill and its surrounding townlands so well over the last hundred years. I am happy to be a past pupil of such a wonderful school.

I was born in Lisheens in Kealkill, a daughter of Mary Sullivan (nee Hurley) of Lisheens and Pearsons Bridge and John (Jack) Francis Sullivan, born in Lackareagh. I vividly remember hiding behind my mother, clutching to her skirt, on my first day at Kealkill National School. I remember the fear I felt when she left me there. I am the first of seven children (Maireid, John, Jerry. Noreen, Carmel, Genevieve and the late Daniel) all born within eight years, so my brothers and sisters followed me to school each consecutive year.

We moved from the farm down to Pearson's Bridge when I was in Class 1. My brother John and I joined the other boys and girls on the two mile walk to school, and learned from them how to catch rides on the milk cart, from Coomhola, which usually caught up with us near the McCarthy's house, on its way to the Kealkill Creamery. The driver didn't like us climbing on the cart, so he always sped up when he got to our little clutch of youngsters straggling along the road. Only the most determined runners got a ride. I believe I became a good sprinter because I ran fast enough to be able to hop on the back of that milk cart. Sometimes a few of us were given a ride by Master Vaughan. He had a rule though, when we heard his Morris Minor coming along the road, we were not allowed to turn our heads to look at him, or beg a ride. Then, maybe, he would stop and give us a ride.

In summer, we stopped to pick blackberries and raspberries along the roadside, especially on the way home from school. As winter approached, I loved the crackling sound of crisp dry autumn leaves, when I stepped on them, hopping from one to the other along the roadside, or, later in winter, popping ice sheets on the potholes.

I usually arrived at school before the others. Mrs. Manning gave me the job of dusting the tables and windowsills, being especially careful when dusting statues and shrines. Mrs. Manning taught Infants to Class 3, in the east side of the partitioned one-room building; I remember the high ceilings and tall narrow windows, and the rows of desks, a row for each class. As I write, I remember very clearly the intense concentration I needed to apply to learning stitching - making neat long and even rows, and embroidering simple patterns. The emphasis was on making each stitch the same size as the last, so that all the stitches were even. This skill has stood me in good stead over the years, as I still love sewing. When I think back, I believe the early training in maintaining focus and concentration on whatever project we were working on was the most important skill we developed.

back to top

The other skill I most value, practiced especially in the higher classes, is rote learning. We learned songs, poems, and prayers or catechism, spelling, and arithmetic by rote. And we learned to speak 'Irish'. We learned our history in the form of adventure stories. We also learned step-dancing. All of these skills, --memorizing movement, words and melodies, strengthened our capacity to concentrate over long periods. We were called upon at random to stand up and recite or sing or tell a story, and we'd better be prepared, or else we got a severely hard slap of the cane across the hand. Master Vaughan was a strict teacher. He took classes 4 through 8 in turn.

Master Vaughan also lived in Pearson's Bridge. He and his wife and daughter lived in the last house in the row of ivy-covered houses, which included the pub. The truly elegant and marvellous local mid-wife, Nurse Creedon lived with her brother across the road, until she retired to a house just across the road from Kealkill NS, where I imagine she loved seeing all the children she helped bring into the world. She delivered all of my brothers and sisters, except me. Being the first-born, my mother had me at Bantry hospital.

Our family left Ireland when I was 11.5 years old. Richard (o/w Dickie) O' Sullivan who I understand has been working on the Centenary Committee, was a school friend of mine, we sat at the same desk. He reminded me a few years ago after my brother Daniel died, that just before we left the school to go to America, our teacher Master Vaughan lined us up and every student in the school shook our hand to wish us well on our journey to America. Before we left Ireland, the priest warned my mother, Mary who thankfully is still living, near me in Melbourne (and who also attended Kealkill N.S.) that by emigrating with her seven children, she was removing seven future families from the parish.

I returned for the first time when I was 25. I had been living in Australia for 4 years at that stage, and I had just spent a year, teaching English, in Thailand, and exploring other S.E. Asian countries, Malaysia, Cambodia, Laos, Hong Kong. I met my sister Noreen who was able to join me for the trip back to Ireland, to join our father John (Jack) Sullivan, who visited every year, and who is now buried in Bantry cemetery.

As soon as I arrived in Kealkill, I arranged to visit Mrs. Manning. That was a very special experience for me. I remember I was directed by a neighbour to her house and I knocked on the door, and when she answered Mrs. Manning welcomed me warmly. She ushered me to her parlour, where she served tea and barn brack (a traditional Irish fruit bread). We talked awhile, and then she pointed to the statue of the Infant of Prague on her mantelpiece, and told me that she says her evening prayers in front of the statue, and that she always says a prayer for me, because it was I who broke the crucifix off the globe when I dusted the class room, so long ago.
I was dumbfounded --joyous! The impact of learning that someone so important in my life prayed for me every evening was, and still is breathtakingly wondrous. I have always been grateful and deeply thankful for Mrs. Manning's professional caring kindness as my first ever Teacher. I wish everyone associated with the School the most special of celebrations.

With Kindest Regards,

Mairéid Sullivan

Also published in Tintéan Magazine, the quarterly journal of the Australian Irish Heritage Network.