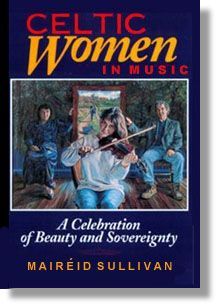 Celtic Women in Music
Excerpts from filmed interviews with a selection of Ireland's most celebrated women musicians, filmed in Ireland, October 2000.

After a quick visit to my own home in West Cork, Ben and I travelled all over Ireland to film conversations with fourteen of Ireland's most celebrated musicians, representing many styles of Irish music. See travel diary and photos here.
Full transcriptions of in-depth interviews with over 30 Celtic women musicians, across the Celtic diaspora, can be read in Volume One of Celtic Women in Music (1999), available on Amazon.com

Over 75 Celtic Women musicians were interviewed for this project.
Volume Two remains unpublished due to publishing mergers and changing times, especially after September 2001.
REVIEWS: Click here to read reviews, including the Los Angeles Times review.
TRANSCRIPTS: See interviews published on Alternate Music Press features page.

Musicians featured in the following six short clips:
1/ Mary Bergin and Dordan; 2/ Moira (Moya) Brennan; 3/ Grainne Yeats;
4/ Siobhan Peoples and Josephine Marsh; 5/ Mary Custy; 6/ Noirin Ni Riain.

Music can bring great comfort when we feel wrapped in the warmth, intelligence, and skill of talented artists.
Each time our attention is captured by good musicians we make new discoveries about the spirit of humanity, in the
poetry of songs and in original combinations of rhythms and melodies. These talented women present us with an intimate experience of the inner workings of Celtic culture, especially in Ireland.
Read the diary here:
Executive Producer, Darby Shields
Producer and Interviewer, Mairéid Sullivan
Cinematographer, Joe Edwards
Sound Engineer, Ben Kettlewell

View more film clips on our YouTube channel
back to top