For Love's Caress
a Celtic Journey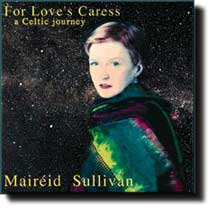 "...a bold, daring and courageous album full of unexpected twists and delightful turns.....a sweet oasis of transcendental delight.
John O'Regan, Limerick, Ireland
"...Although very little can hold a candle to Maireid's first solo effort, the magical "Dancer", this one is brilliance on an even grander scale! From the opening loveliness of "For Love's Caress" to the bizarrely original rhythmic closer, "Anam Chara", Ms. Sullivan not only stretches the boundaries of traditional Celtic folk, but explodes beyond them with a confidence and air of creativity that is staggering.

Listen to the mesmerizing melodies of "Soaring" (one of my favourite songs in ANY kind of music in the last umpteen years), the other-worldly callings of "Danu's Land" or the ancient beauty of "Eileen Aroon." Through all of this, the common denominator is Maireid.'s stunning voice, the likes of which is a once-in-a-lifetime gift to the listener.

The world needs to hear this woman sing! Moreover, the band of musicians she has assembled here merge with her in the true power of diversity. From song to song, they all make "For Love's Caress... " quite easily my album of the year ..."
Ray Dorsey, Chaos Realm, Baltimore, MD
"Move over Enya, Maireid is here!!! Offering traditional Celtic tunes, plus more brilliant original compositions, "For Love's Caress" reflects Maireid Sullivan's versatility as a musical artist, and shows this is one powerful songstress that just keeps getting hotter and hotter! Her intelligence and musical genius shines through in her melodies and thoughtful lyrics. Her songs have an almost mystical intelligence to them, mature beyond her years. Spirit truly unites with flesh on "For Love's Caress," creating a sensuous and magical album that you can listen to over and over again. The instrumentation and musicianship is superb, with guitar, cello, keyboards, and harp, as well as Uilleann Pipes, tin whistle, violin, and bullroarer. Maireid gathers together a remarkable blend of musicians such as Robert McEntee, Gerri Sutyak, Shannon Michael Terry, Martin Hayes, Eric Rigler, Ben Kettlewell, and Jim McGrath, giving this album a rich acoustic fullness and added depth.
She is even joined by her mother, Mary Sullivan, and her sister, Genevieve, on the song "Anam Chara," a song about the rare friendships that you find along life's journey. The title cut, "For Love's Caress" is a beautiful love song that makes your soul tremble. "Recurring Dream" is pure milk and honey, and my favorite cut on this finely-crafted album. The song's melody, like many of Maireid's tunes, haunts you for days afterward, and you find yourself humming this tune. "I Don't Want to Hide" shows Maireid's versatility, and has a real pop sensibility to it. Possessing one of the most extraordinary singing voices of our day, Maireid still delivers favorite traditional Celtic songs such as "The Leaving of Liverpool," and "The Great Silkie of Sule Skerry." Continuing as one of the most creative and dynamic contemporary Celtic artists, Maireid Sullivan is singing her way to the top! "For Love's Caress" has my highest recommendation and top rating. This album makes the perfect gift!
Sirona Knight, Magical Blend Magazine, California
"Every once in awhile a song brings tears to my eyes. Every great once in a while a quality of voice makes the hair stand up on my arms, and few and far between are lyrics that strike my heart dead center. Sullivan's long awaited new release does all those things and this ain't no bull--several of the cuts managed all three at once. This is not traditional Celtic by the stretch of anyone's imagination. It has the grit of a hard-core Nashville production, the yearning honesty of Tracy Chapman, and the real-woman feminine appeal of Emmy Lou. Yet, Irish-born Sullivan is not straying far from her Bardic roots with these intensely poetic compositions deeply informed by Gaelic musical influences; and her sweet quavering voice is genuinely Irish in inflection. What separates her from the other Celtic divas is that you sense there is real blood pumping in her veins; that she has walked down the rocky road of life and still has the rousing passion of the Irish to celebrate it. Cheers, Mairéid, you knocked me down and tied me up."
Peggy Randall, Napra Review, Washington
"All the elements of great Celtic music come together in this brilliant recording. Listening enraptured, lovingly caressed by Maireid Sullivan's magic, one feels as though they are Anam Chara, 'soul friend' to this noble artist."
Kevin Maxwell, Music Manager, Bodhi Tree, Los Angeles
"You express the intent of the songs ... with depth and great feeling. I really like the way you have melded the traditional 'old songs' and the new visions of your own. A true Celtic process which has allowed them as a people to survive until now - they are a very adaptive culture and keep one foot in the future and one in the past while visiting the otherworld on occasion. The music of both old and new is well blended to create a whole that is a continuum as well as 'soul-scape'. ...the overall effect is calming, giving a warm peaceful, gentle, and refreshing feel. It would be hard to pick one 'most favorite' song, but if I had to choose, I think it would be "Recurring Dream". I have similar dreams about my childhood, but also about places I've never been yet know I have lived in lifetimes ago. "I don't want to hide" is another that I can personally relate to. And I love the way you've done "The Great Silkie of Sule Skerry" and "Annie Laurie". It is hard to separate the whole, and I hate doing that, as cubbyholes with separated, estranged wholeness are a great part of the problem with our world and our souls today.
Plus, we all need the refuge of peace and plenty for our heart's rest in "Danu's Land" where: '...Sweet as the voice of angels....Listen for their keening call/ In your heart you will hear their song/ Hear your own voice, see your own dream/ 'Come to me' they sing in melodious strain/ Live forever deep in Danu's dream...'
...a conscientious perspective of how Celtic music, thus culture, is alive today yet retains very strong flavors and convictions from the past. The underlying effects of the music provides a calming, warm feel. Pob fendithion Brigid i chi cariad. (All blessings of Brigid be yours love.)"
Charlene D Hutchison, Welsh Archeologist & Celtophile
"Hot on the heels of her recent collaboration, "A Celtic Evening", with The Chieftain's harper, Derek Bell, this is the latest offering from this world renowned artist. "For Love's Caress" is without a doubt, a delicate and provocative masterpiece of contemporary Celtic music. Many diverse elements are at work, and the chemistry is there.
Mairéid has been featured on five Celtic recordings, and as in her earlier releases, she not only reinterprets traditional pieces in an extraordinary manner, but forges ahead with original material that defines the future of the genre. Unlike many other Celtic artists, Mairéid and her band create music which is totally void of well worn clichés, and instead presents an invigorating and inspiring musical environment.
The album contains five traditional pieces and nine originals. Running at almost 70 minutes it is indeed a metaphorical Celtic journey. Mairéid has assembled a top notch international group of artists (and her mother) to back her evocative, mesmerizing voice. Some of the pieces feature the entire ensemble, where others use minimal orchestration to convey the simplicity and beauty of the songs. Joining Mairéid is world renowned Irish fiddler, Martin Hayes (with thanks to Green Linnet), Eric Rigler (Braveheart, Titantic) on Uilleann Pipes, Tin Whistle and Low Whistle, Donelle Page on Classical Harp, Gerri Sutyak on Cello, Ben Kettlewell on Electric, Acoustic & Slide Guitars, and Keyboards, Robert "Cass" McEntee on 12 string Rhythm Guitar and Bass, Jim Mc Grath on Percussion, Shannon Michael Terry on Vocal Drones, Mbira, Shruti Box, & Bullroarer, Andrzej Wolczynski on Accordion, Genevieve Sullivan on vocal harmony, and a special guest appearance by Mairéid's mother, Mary Sullivan. The music evokes a sense of immediacy for the listener. It creates a magical experience in a compelling atmosphere. On this new album, Mairéid's soaring voice interprets each song with a gentle spirit and delicate touch that reveals her visionary realm of mystery and enchanting beauty. This is particularly evident on songs like Danu's Land, and Anam Cara. As a personal soundtrack to a spiritual pilgrimage, Mairéid sets her poetry to music in a stunning creative musical statement. "For Love's Caress" will stir your soul and let your spirit take flight with it's exquisite vocals, lyrics and alluring musicianship".
Ben Kettlewell, Alternate Music Press
Online music magazine http://www.alternatemusicpress.com